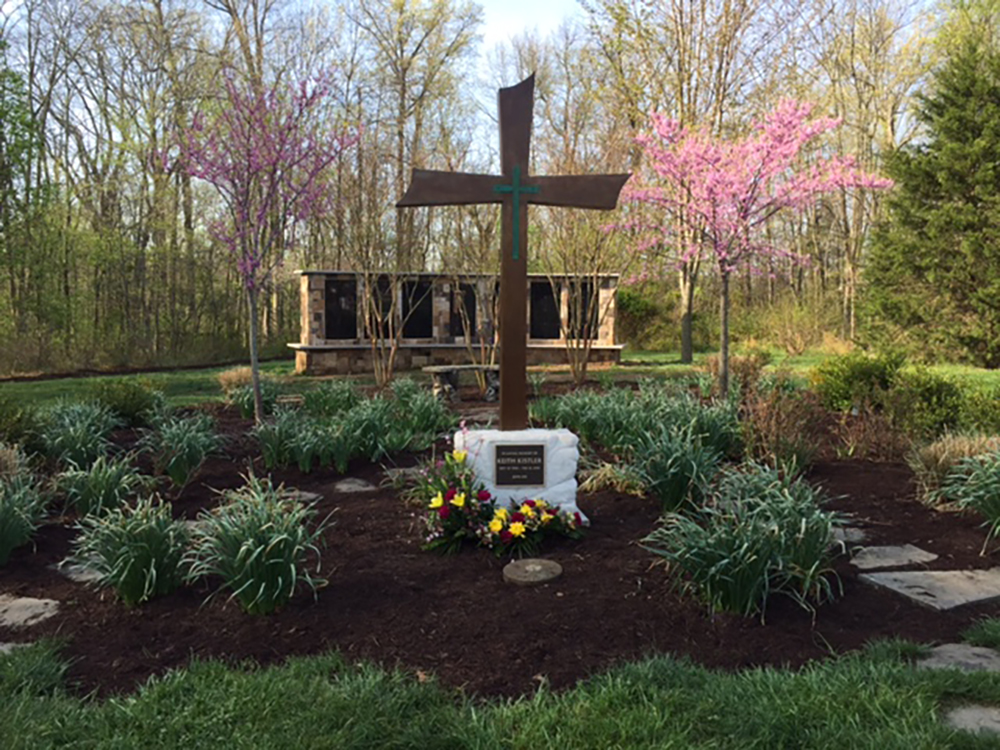 "Your sun will never set, your moon will never fade, I the Lord will be your everlasting light and your days of sorrow will end." Isaiah 60:20
Through the sacrifice of God's only son, Jesus Christ, Christians are promised eternal life with God in heaven upon our earthly departure. While we are promised our Christian loved ones will be met with the love of God and will no longer experience pain or sickness in their death, saying goodbye to them here on earth can be difficult. The Columbarium and Prayer Garden at Our Savior's Way was created to provide a place of peace, prayer, and meditation for those navigating loss.
What is a Columbarium?
Our columbarium contains separate "niches" for holding the cinerary urns of individuals. It encircles the beautiful prayer garden and is accessible to friends and family members wishing to visit their loved ones. Each niche is engraved with the name, date of birth, and death of an individual. The niches are sized to accommodate two urns.
How do I learn more?
For more information, or to purchase a niche, please download the information packet linked below. You may also contact the This email address is being protected from spambots. You need JavaScript enabled to view it. for a copy.
Information packet for download
Our pastors are available to minister to you during this difficult time. To speak with a pastor, please contact the church at 703-858-9254.
For information on a funeral or memorial service, please contact the This email address is being protected from spambots. You need JavaScript enabled to view it..
Links to additional resources:
Prayer Garden and Columbarium History
Thanks to Corrado and Sharon Dugo, a prayer garden was planted on the campus of Our Savior's Way Lutheran Church. It became a place of peaceful meditation for those looking for time alone with God.
In April of 2012, thanks to the efforts of John and Kristin Cornely and their friends and family, the prayer garden was expanded and improved in memory of their daughter, Callie Marie.
In 2015, RockWater Farms was asked to design a Columbarium to complement the prayer garden. Many members of Our Savior's Way came together and moved the Columbarium effort forward. The goal was to make this a quiet place to commune with God and remember loved ones.
August 2015, the congregation approved construction of the first Columbarium wall, and in the summer of 2016 it was built. The walkway was added in the spring of 2017, thanks to those who donated memorial funds. Also at that time, the center stone was engraved and a large cross was erected in memory of Keith Kistler. The cross was designed and sculpted by local artist, Brian Kirk, and dedicated on a beautiful fall day—the last day in September 2017.
December 2018, three permanent benches were added to the prayer garden and placed in front of the existing Columbarium and at the location for two future structures. Thank you to Janet Walter for her donation of a bench in memory of her beloved husband, Dale Walter.
We encourage you to enjoy the peaceful Prayer Garden and Columbarium grounds with respectful consideration that this is the final resting place for many friends and family.Thanks be to God for the promise of everlasting life that is ours through His Son, Jesus Christ!
If you would like to donate in general to future phases of this project and garden maintenance, without purchasing a niche, checks can be made out to OSWLC with "Columbarium" noted in the memo line.