Letter from our Treasurer - July 24, 2020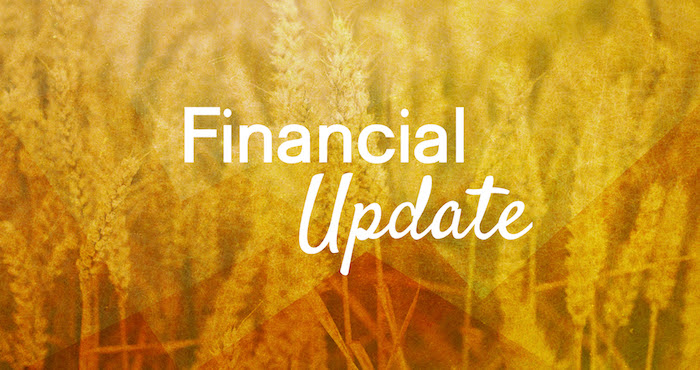 Dear Brothers and Sisters in Christ,
Dear Members and Friends of Our Savior's Way,
In March, I wrote to you about how the COVID pandemic was affecting our church financially, what we planned to do to sustain ourselves (with God's help as always), and how you could step up to meet the urgent needs of crisis stewardship during the pandemic. Today, almost four months later, I am happy to report some hopeful news. In large part, our financial plans and cash flow forecasts have worked out thus far. If enrollment at Open Arms continues to increase to about 250 pupils by the end of summer, and members continue to donate weekly at or near budgeted levels, then our best estimate today is that the church will stay solvent through the end of 2020 and beyond.
The Mission and Ministry Servant Leaders Group (MMSLG), the Finance Committee, and the church staff have worked closely together during this crisis to monitor church and school revenues and expenses closely, forecast cash flows, and secure savings wherever possible in overhead and operating expenses. For example, the Lutheran Church Extension Fund approved our request to pay only interest on the mortgage from March through August, conserving about $32,000 per month. We were able to offset most of the loss of revenue from the closing of Open Arms for two months by obtaining a Small Business Administration (SBA) Paycheck Protection Program (PPP) loan of $664,000. The PPP loan enabled the church and school to cover a substantial portion of payroll and overhead expenses (such as mortgage interest and utilities) in May and June. PPP also allowed us to bring back many members of our school staff, who had been laid off in March. Open Arms reopened in June and enrollment is rebounding (as of this writing, the enrollment for the summer camp and full daycare is around 65 children). The church finance team is carefully managing the allocation of our PPP funds to ensure that Our Savior's Way will qualify for 100 percent loan forgiveness. In addition to the PPP loan, the church was able to secure an SBA disaster loan of $150,000 to provide an extra measure of liquidity if needed. This loan is not forgivable but has a very low-interest rate and can be repaid at any time with no penalty.
Because the future course of the pandemic is hard to predict, it is premature to declare the financial crisis over. We must continue to search for ways to reduce expenses, increase revenues, and grow our emergency reserves in case there is a second COVID wave this fall (please pray for deliverance). To further reduce overhead costs, the Finance Committee is researching options to refinance our mortgage to reduce our payment. Regardless, until both the church and Open Arms return to pre-COVID attendance levels on a sustained basis, we must be conservative as we set spending limits in next year's budget and prioritize spending on core functions that keep the church open and running.
The next six months will continue to be a period of austerity for us, but we will get through it together, and with God's guidance. Help to grow our church by inviting people to become new members. Stay engaged with other members in worship and small groups. Please continue to donate regularly, faithfully, and sacrificially to the extent you can. Paul reminds us that..
"…whoever sows sparingly will also reap sparingly, and whoever sows generously will also reap generously. Each of you should give what you have decided in your heart to give, not reluctantly or under compulsion, for God loves a cheerful giver." - 2 Corinthians 9:6-8
If you desire more detail on our finances, I would be happy to share it. My email is This email address is being protected from spambots. You need JavaScript enabled to view it..
Yours in Christ,
Ed Hollandsworth
Treasurer
---
Treasurer Update - April 15, 2020
I pray this update finds you and your family well. As a follow-up to my letter to the congregation a few weeks ago, I'd like to provide you a brief update on our financial situation. First, thank you for your response to my letter and to the needs of our church by your continued stewardship. As you know, a considerable amount of our total revenue is derived from the Open Arms school. With the school being closed due to the pandemic, this has resulted in a substantial impact on our overall revenues to the point where we have to find ways to significantly reduce costs which in some instances has caused us to not make monthly payments to conserve cash.
For March, although the church weekly donations, which normally average $32,000, came in at $31,000 per week, this still does not make up the considerable shortfall from the school being closed. Historically, donations cover a portion of the revenues needed to cover overhead and ministry costs. To help us to cover the income shortfall, we have applied to borrow just over $700,000 from the new "Paycheck Protection Program" (PPP) that was created under the CARES Act. Please pray for that process and for favorable consideration of our application. Some or all of this loan, if approved, may be forgiven. If we are approved, OSWLC will establish a separate account to manage these funds to ensure all funds are disbursed in a way that complies with PPP guidelines and positions us to qualify for 100% loan forgiveness.
It is important to note that we estimate that, if Open Arms does not reopen this summer, PPP funds alone will not sustain our church beyond late August. Therefore, increased donations are still very much needed. If you have not yet done so, please consider using Pushpay or one of the other many ways to continue to contribute during this time as you continue to pray for the health of our members, our dedicated staff, our community, and the world.
In Faith and Hope, 
Ed Hollandsworth
OSWLC Treasurer