Moving Forward with Three Phase Reopening
Posted May 6, 2020
Could it be that people are tired of staying at home? Could it be that personal economics are driving people back to work? Or is it simply spring fever? It seems like the peak of Coronavirus is still not behind us, yet many states, including Virginia, have felt an increasing pressure to loosen their stay-at-home orders. There is a restlessness in the air and many have been looking forward to a time when these stay-at-home orders are loosened. And so in many states this is beginning to happen, including the state of Virginia. This week Governor Ralph Northam announced the loosening of his stay-at-home order with plans to move toward a "Phase 1."
The staff, leadership, and many of us at Our Savior's Way Lutheran Church, have been looking forward to this. Over the past couple of weeks, we have heard from the LCMS Southeastern District leadership on how it might be possible to move forward and have provided suggestions to do so. Additionally, OSWLC has officially received funds from the Payroll Protection Program to assist us in the phases ahead. Since coming to Our Savior's Way, our Intentional Interim Senior Pastor Mike Ramey has outlined a three-phase re-start plan for our church building. While it may be subject to change, here it is as it currently stands today:
PHASE 1: Which would abide by a restriction of less than 10 people in any given space.
For the Church: We will continue our "online" worship services and begin to incorporate ways in which congregational members can once again receive communion. We will prearrange various location in our building where small groups can partake in the Sacrament of the Altar. These locations might include our Sanctuary, the Great Room, or Fellowship Hall, and a thorough cleaning would need to be done before and afterwards. Depending on the need, we may also arrange for congregational members to drive through our parking lot in order to receive communion in their cars. If this is done, there may also be an option of a "drive-in" worship service as well.
For the School: We plan on initially re-opening with a limited number of staff and children using only the entrance and classrooms in the old wing of the building. Our Open Arms Director, Carrie Ann Jiridly has been working with a Virginia Department of Social Services representative very closely to ensure that we will be following all suggested guidelines and procedures. She is currently planning on doing so this coming Monday, May 11th.
PHASE 2: Which would abide by a restriction of less than 50 people.
For the Church: We plan to increase our small attendance experiences, and may be able to increase attendance at a drive-in worship experience.
For the School: Open Arms will continue to fill classrooms in the old wing of the building and, with increasing demand/programs, will begin to make limited use of the new wing of the building.
PHASE 3: It is anticipated that there will be more than 50 people. We plan on re-opening the whole of the OSWLC campus with a celebration of our first Sunday together again.
Throughout these phases and into the future, while doing our best to abide by state health guidelines, we would like to continue to increase the number of options of small groups and Bible studies, as well as participatory experiences.
---
Letter from Congregational President - May 6, 2020
Open Letter to the Pastors, Staff and Volunteers of Our Savior's Way Lutheran Church,
As we begin to see a decline in COVID-19 in our area and there is discussion around how Virginia will re-open, I reflect on the huge level of effort that was needed to provide a level of normalcy at Our Savior's Way Lutheran Church. I, like many in our congregation, had anxiety and concerns about the spread of COVID-19, but during this I saw a light – John 1:5 "The light shines in the darkness, and the darkness has not overcome it."
With the restriction to public gatherings there was a challenge "issued" to OSWLC: how do you maintain the mission? If you were involved in the planning meetings you would have heard the word "unprecedented" frequently. This is not something our church or other churches had a plan for. We were no longer allowed to have in-person church activities even though many of our offerings have always been in-person and at the church. As I contemplated that, the light I saw was that OSWLC is not the building and has never been the building, it is the congregation.
So how do you provide church offerings remotely? This is not an easy question to answer or problem to solve. But they did! The pastors, staff, and volunteers of OSWLC developed ways to bring us all back together and in short order. They created opportunities that supported our mission –
"At Our Savior's Way, we glorify God and make disciples for Jesus by:
Forming Relationships, Experiencing Jesus Together, and Sharing God's Love."
First, through online Sunday worship service with viewing times so we could watch together and communicate with each other during the service. We are more than any Sunday service and they moved quickly to add additional offerings – online Bible studies to learn and build relationships and many small groups like: DLT groups, Griefshare, Grace Place, confirmation, youth, and praise team moved online. A dedicated group of members made calls to check on my family, see how we were doing, find out if we needed anything, and our family's prayer needs? What a blessing to be reached out to at this time!
Additionally, staff led the process to apply for a Payroll Protection Program loan, which we have now received. This will provide critical funding to help with our overall recovery.
OSWLC is truly blessed with our pastors, staff, and volunteers, and their commitment to our mission. Their creativity, skills, and talent, combined with the use of technology, continues to provide so many valuable opportunities to do the work of the church. Until I can shake your hand, give you a hug, and thank you in person, please accept my deepest thanks for your dedication to OSWLC and your commitment to meeting this challenge head on!
Feeling Extremely Blessed,
Heather Ann Schigur Novak, Congregational President
This email address is being protected from spambots. You need JavaScript enabled to view it.
---
Treasurer Update - April 15, 2020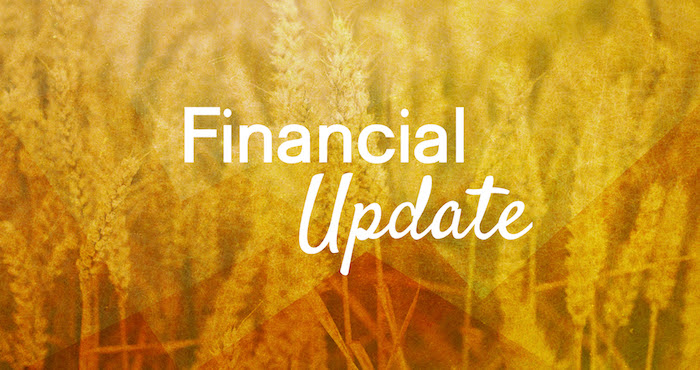 Dear Brothers and Sisters in Christ,
I pray this update finds you and your family well. As a follow-up to my letter to the congregation a few weeks ago, I'd like to provide you a brief update on our financial situation. First, thank you for your response to my letter and to the needs of our church by your continued stewardship. As you know, a considerable amount of our total revenue is derived from the Open Arms school. With the school being closed due to the pandemic, this has resulted in a substantial impact on our overall revenues to the point where we have to find ways to significantly reduce costs which in some instances has caused us to not make monthly payments to conserve cash.
For March, although the church weekly donations, which normally average $32,000, came in at $31,000 per week, this still does not make up the considerable shortfall from the school being closed. Historically, donations cover a portion of the revenues needed to cover overhead and ministry costs. To help us to cover the income shortfall, we have applied to borrow just over $700,000 from the new "Paycheck Protection Program" (PPP) that was created under the CARES Act. Please pray for that process and for favorable consideration of our application. Some or all of this loan, if approved, may be forgiven. If we are approved, OSWLC will establish a separate account to manage these funds to ensure all funds are disbursed in a way that complies with PPP guidelines and positions us to qualify for 100% loan forgiveness.
It is important to note that we estimate that, if Open Arms does not reopen this summer, PPP funds alone will not sustain our church beyond late August. Therefore, increased donations are still very much needed. If you have not yet done so, please consider using Pushpay or one of the other many ways to continue to contribute during this time as you continue to pray for the health of our members, our dedicated staff, our community, and the world.
In Faith and Hope, 
Ed Hollandsworth
OSWLC Treasurer
---
Coronavirus Update - April 8, 2020
As previously communicated, all worship services and meetings have been cancelled through April 30th due to the Coronavirus disease (COVID-19). The church building is currently closed until further notice. We encourage you to keep up with the latest information from the Centers for Disease Control and Prevention, the Virginia Department of Health, and this website.
We will again be sharing the Gospel this week on April 9th, Maundy Thursday at 7:00 pm, April 10th, Good Friday at 7:00 pm, and April 12th, Easter Sunday at 9:30 am, via worship videos that will be on our website and Facebook page. For additional resources, look at devotions from our staff that are available on our website, our Facebook page, and our app. We also recommend Lutheran Hour Ministries.
What can you do?
Refer to the CDC's guidelines on how to limit your exposure by washing your hands frequently as this will help limit the spread of this virus.
Donate blood if you are a healthy adult as there will most undoubtedly be a blood shortage. Click here to schedule an appointment.
Keep the faith. Click here for a brochure titled Pandemic Hope: A Family Devotional for Life During COVID-19.
Click here for information on how to protect your mental health during physical distancing.
Stay safe and healthy church family!
---
Coronavirus Update - March 30, 2020
Dear Brothers and Sisters in Christ,
I pray that you are all well and staying healthy physically, mentally and spiritually during these unprecedented times. We are facing many challenges, however, as it is written in Romans chapter 8 "If God is for us, who can be against us?" I believe that Word of the Lord and I know that you do as well. I am writing to let you know that, as a way to keep you informed and to also hear from you personally, we are making phone calls to all congregational members.  
In the next few days, OSWLC volunteers will be making calls to each person to say "Hi," see if you have special needs that you may need help with, and ask for your prayer requests. If we are unable to reach you by phone we will leave a message so you can call us back or, if we can't get through, we will try to reach you by email.  
In addition to this effort, we are establishing a prayer vigil where volunteers will pray around the clock (24/7) for needs of our country, coronavirus victims, health workers, our church, our families, and individual needs. We are asking for 168 volunteers to pray one (1) hour per week to make this happen. This is a great way to lift up our prayers, to stay positive, and be refreshed. I could see other congregations being encouraged by our example and starting something similar. It would be great to start this prayer vigil beginning Holy Week and continue on until we get through this crisis!
We are now recruiting volunteers to make calls and for the prayer vigil. Will you help? To sign up to pray for one hour a week please click here. If you would like to help by calling congregational members, please contact any member of our initial team, listed below:
Pastor Eric Peterson - 

This email address is being protected from spambots. You need JavaScript enabled to view it.

Pastor Tyson Labuhn -

This email address is being protected from spambots. You need JavaScript enabled to view it.

Bill Pfancuff - 

This email address is being protected from spambots. You need JavaScript enabled to view it.

 
Daney Carlin - >

This email address is being protected from spambots. You need JavaScript enabled to view it.

Tom Lewis - 

This email address is being protected from spambots. You need JavaScript enabled to view it.

Kay Lewis - 

This email address is being protected from spambots. You need JavaScript enabled to view it.
If you are interested in helping in some other way, such as running an errand for someone who cannot get out, or perhaps writing a devotion for a future OSWLC Devotional Book, or if you have any questions, please reach out to me.

As a reminder, we are using various platforms to reach out to everyone: our website, our Facebook page, and a new OSWLC Church App available for both Android and Apple devices.
As Joshua and the children of the exodus prepared to enter the Promised Land, for them, it was uncharted territory. God's Word to them is the Word I've been sharing with the staff: "Be strong and courageous...for the Lord is on your side!"
Pastor Ramey
---
Letter from Congregational President – March 25
Dear Friends in Christ,
I am normally writing you with an update on our Vacancy Journey, but there is so many other items clouding my mind as we try to navigate COVID-19. Our lives are very different today than the last time I spoke with you on March 1st. On that day, I wondered on the vote to call Pastor Ramey and was looking forward to my daughter coming home for spring break.
Pastor Ramey arrived on March 15th as we entered into this very uncharted territory, with Pastor Labuhn, having to close church for two weeks to ensure we were protecting our members and our community. Many of our college students were sent home, our children's schools were closed, and some of us are learning how to work from home or our jobs could be at risk. On top of all of this we are concerned for our family and friends during this uncertain time.
I applaud the pastors and staff with their numerous efforts to offer virtual experiences for worship services, classes, and small groups. This sense of normalcy is so important and embodies our mission – "At Our Savior's Way, we glorify God and make disciples for Jesus by: Forming Relationships, Experiencing Jesus Together, and Sharing God's Love."
We are now over two weeks into social distancing and unsure of when we will be able to meet again in person. So, this month I offer a Prayer for those who are worried -

Father, worry and fear are not of your heart. 1 John 4, says "beloved, do not believe every spirit, but test the spirits to see whether they are from God, for many false prophets have gone out into the world." This reminds us that perfect love casts out all fears. We pray your perfect love upon the hearts of all those who are burdened with the fear. Lord, we know that you are bigger than this threat. Comfort those who are living in fear, free them from the anxiety within. Remind them that you are still in control. Provide the peace and serenity that comes from the Prince of Peace. Help those who are living in unease to trust you and rest assured that you will be faithful to us until the end of the age. Dear God, may we rest our fears upon you, for your burden is light, and your yoke is easy.
In Jesus' name, Amen
I pray for you and your family's health. Please be safe and I know we will all be together soon. If you need anything, please reach out myself or any member of the MMSLG.
Blessings,
Heather Ann Schigur Novak
Congregational President
This email address is being protected from spambots. You need JavaScript enabled to view it.
---
OSWLC Plans Moving Forward – March 20
As the COVID-19 response moves forward, we are seeing unprecedented measures taking place while the various levels of government busily respond to the unfolding pandemic and its subsequent chaos. The situation is "fluid"; it changes almost hourly.
Here at Our Savior's Way, the staff and church leadership are busily working on how to continue ministry in a time of fear, social distancing, and even total isolation. What we have to date is the following:
We will worship "virtually" at 9:30 am on Sunday through our website or our Facebook page. This week we have put together a worship experience that hearkens to our normal worship as a congregation - with service, readings, a children's message, and a sermon wrapped in the praise and worship of our music ministry.
We will follow an "alternating" worship schedule: This Sunday is geared towards praise and worship. Next Sunday will be a traditional service. Palm Sunday will be a praise and worship service; and Maundy Thursday will be traditional. That's where we are at currently. Pending further developments, we will plan with three scenarios in mind; the doors are open (and "ya'll come"), continue the "virtual" worship offerings, or the possibility of an on-campus, drive-in service.

We will begin to offer devotions each week on the Psalms (the Old Testament's prayer and songbook).

We are carefully preparing how we can celebrate the Lord's presence in Holy Communion if we are not gathered around His table.
We are trying to be prepared for anything, but careful not to commit to something that we may have to hurriedly change because the situation has changed. These are some challenging times and old, stodgy theologians (like yours truly) must get their heads wrapped around what is necessary and what is right and good and salutary.
Next week will be a new week...with new cases, insights, guidelines, and mistakes on the part of many. We will reflect on whatever faces us with the sure and unchanging hope that is ours in Christ Jesus. We will determine the next stps as we get to them - and God's going to get us through this!
Be strong and courageous.
Pastor Mike Ramey
---
Coronavirus Update - March 18, 2020
As previously communicated, all worship services and meetings have been cancelled through March 22nd due to the Coronavirus (COVID-19). We encourage you to keep up with the latest information from the Centers for Disease Control and Prevention, the Virginia Department of Health, and this website.
We will again be sharing the Gospel this week via a worship video that will be on this website and Facebook page (facebook.com/OurSaviorsWay). For additional resources, we recommend Lutheran Hour Ministries (lhm.org) as well.
Please refer to the CDC's guidelines on how to limit your exposure by washing your hands frequently as this will help limit the spread of this virus.
---
Excerpts from a Letter to the Congregation – March 14, 2020
To keep up with all the news and closures happening hour by hour as we all discern how to respond to and mitigate the spread of coronavirus (COVID-19). We have been reading updates from the Centers for Disease Control and Prevention and Virginia Department of Health, and it is so much information that many of us are letting fear rule the day and feeling overwhelmed and even fearful. If that is the case with you, I want to remind you of God's Word: "Do not be anxious about anything, but in every situation, by prayer and petition, with thanksgiving, present your requests to God. And the peace of God, which transcends all understanding, will guard your hearts and your minds in Christ Jesus" (Philippians 4:7).
Our priority is the health, safety, and well-being of our people, with particular concern for the most vulnerable. It is also our collective responsibility as Christians to be good neighbors and to do our part in protecting the social fabric upon which many depend in our community.
I want to keep you updated on how OSWLC is responding to concerns surrounding the coronavirus. We will continue to monitor this situation and as information evolves our website will be the primary, most up-to-date place for you to receive answers to commonly asked questions. We are committed to doing everything we can to provide a safe environment for our church family and surrounding community.
IS OSWLC GATHERING FOR WORSHIP?
In Consultation with and support of the MMSLG, Pastor Ramey and the Elders at this time I have decided not to have in-person worship services for the next 2 Sundays. This includes our Midweek Lenten worship services. We will be sharing the Gospel this week via a special sermon video by Pastor Peterson on this website and our Facebook page. This also gives us an opportunity to explore and provide more robust ways of having virtual worship services. Please look for further communications in our Midweek mail on how our upcoming Sunday will be more interactive. For additional resources, we also recommend Lutheran Hour Ministries as well.
Also, there will be no groups meeting, which includes Bible studies, Grace Place, high school youth group, confirmation, small groups, or any outside groups. We will keep you updated via email, this website, or on our Facebook page.
HOW SHOULD I RESPOND SPIRITUALLY TO THE CORONAVIRUS?
The coronavirus is yet one more reminder that we live in a fallen world of sickness, sin, suffering, and death. Ultimately, none of us are immune to any of these things. But that's why the Gospel is such Good News. God has not left us alone in this world; He sent his Son, Jesus, to save us. The greatest news in all the world is that Jesus lived a life with no sin, died on a cross to pay the price for our sin, and rose from the grave in victory over sin and death. Now anyone anywhere who turns from their sin and trusts in Jesus will be forgiven of all their sin, restored to relationship with God forever, and be given eternal life. That means that through Jesus, we never have to fear sickness or death because in Him we are given eternal life.
Here are other ways we all can respond to the coronavirus:
Read God's Word and continue to trust in God as the good and sovereign Creator and Sustainer of life upon whom we all depend.
Pray for mercy for the sick, strength for doctors, insight for researchers, and wisdom for officials. Pray for our church members, pastors, and our ministry, as the Good News needs to be shared more now than ever before.
Look for opportunities to love and care for others, whether they are sick, isolated, marginalized, poor, or oppressed.
This would be a good time to switch to electronic giving so our church can continue to minister to those in need. Click here for more information. You can also mail your offering to the church. The address is 43115 Waxpool Road, Ashburn, Virginia 20148.
Promotion of a "stewardship" ministry that includes being self-aware (staying safe) yet ministering to others.
Stay closely connected to our church family by reaching out to members via phone and checking the website and social media (Facebook) for updates.
Continue to faithfully give so that the ministry of the church thrives all the more in the midst of difficult days.
MOVING FORWARD TOGETHER IN HOPE
This situation is constantly evolving. First and foremost is our relationship with Christ. Second, is the well-being of our congregation. We know the importance of meeting together to support each other in Christian community and we will continue to find creative ways to do this during this Lenten season and beyond, if necessary. We place our hope in Jesus, as our Lord leads us in His mission.
Yours in Christ,
Pastor Tyson Labuhn
Acting Senior Pastor
---
Ministry in the Midst of Coronavirus Fear – Mar. 11, 2020
Many people may be feeling anxiety about the coronavirus. We are not alone. We have not been abandoned. Because of the love, grace, and mercy of our God, we are a people of hope and with hope to give to others. Thanks be to God!
In order that we may love ourselves and love our neighbors better, here are some things you can do now.
Stay Informed
Stay informed by going to the CDC website or the Virginia Department of Health website.
Stay Connected
Members are encouraged to make sure that they can log into the church directory on the website. Go online now and ensure your contact information is up to date. Register or log in to Access ACS. Check in with your church family via phone when or if you can't make it to church. It's especially important to check in with members who live alone and are elderly and make sure they are feeling well.
What We Are Doing Now
We are continuing to follow updates coming from the Center for Disease Control (CDC), the Virginia Department of Health, and seek advice from the Southeastern District Office of the LCMS. Here are some proactive steps so that we provide a safe environment and protect the health of staff, families, members, and visitors.
Receive Holy Communion through individual cups. Common cup will still be available for intinction, if desired.
"Pass the Peace" by rubbing elbows instead of shaking hands.
Place your offering at the rear of the church so that you can drop your offering into the plate on your way out of church. Take this opportunity to sign up for electronic giving. Money isn't the most sanitary thing to handle, so consider go here to learn about Pushpay or texting "OSWLC Give" to 77977.
Use the hand sanitizer at the Welcome Center and near the kitchen area.
During the week, disinfecting sprays are already used daily to clean and disinfect touched objects and surfaces in classrooms, and facilities staff are targeting door handles, door push plates, railings, and keypads twice per day.
Our night cleaning company has been asked to pay special attention to door handles, handrails, and other frequently touched surfaces again when they service the building on Monday through Saturday evenings.
The Lord is my rock, my fortress and my deliverer; my God is my rock, in whom I take refuge, my shield and the horn of my salvation. He is my stronghold, my refuge and my savior. — 2 Samuel 22:2-3 (NIV)