Update from Generations of Hope, Haiti
Updated Nov. 2, 2022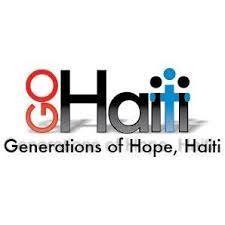 Grace and peace to you from God our Father and the Lord Jesus Christ,
I am writing you today to tell you first and foremost that God loves you and He loves the children and staff of GoHaiti. Having just returned from our new location, I saw the miracle of God's love, grace, and peace as He provided for us, not only a place with a wonderful potential, but safe passage in the middle of the violence. The children are happy here and they are safe - Praise God!.
Thank you for your many gracious inquiries on how you might help GoHaiti as we transition into this new location – we are humbled by your kindness. I believe you know from the news reports that the riots and looting continue making it difficult to get needed food, supplies, and other provisions for just daily living – this has caused the cost of all items to skyrocket. We have continued working via the Internet with our engineer/contractor to develop estimates on rehabilitation of the new site and have some details on that to share. Because we are now occupying the premises, we had to deplete our emergency fund to pay the five-year lease of $50,000 (In Haiti you pay for the entire lease amount at the beginning). This leaves us with only about two months of operational funds to provide for the children and pay staff.
Prayer Vigil and Fundraising
We have started a major fundraising effort and are introducing it to you today in the sections below.A prayer vigil will be the cornerstone of our activities as we stay tethered to Our Heavenly Father for His guidance and grace. Our theme is Christmas Love in Action, and we will spread the joy of Our Savior's birth along with our efforts to gather support for our children and staff in Haiti.
While we are focusing on immediate needs and Christmas in this initial phase of our praying and giving program to get us to a minimum state of operations, we expect follow on phases over the coming months and into next year.We will be keeping you updated on these next phases as we move forward.
We will be also exploring ways to reach people who do not know of GoHaiti by contacting churches, a GoFundMe site, direct contact to companies and organizations for donations and discounts, Giving Tuesday marketing, our website, social media, and grant funding opportunities.We would appreciate your spreading the word about our need to your churches, and others whom you may think appropriate.Your ideas are encouraged, please send them directly to me at: This email address is being protected from spambots. You need JavaScript enabled to view it. or This email address is being protected from spambots. You need JavaScript enabled to view it..
We recognize that some of our supporters(current and future) prefer to use paper letters, checks, and phones.It is important for us to reach everyone so, if you or someone you know prefer to not use Email, let us know by writing us a card addressed to: GoHaiti, 210 Dogwood Lane, Meriden,CT 06450.Or, having someone who does use Email to write us at:This email address is being protected from spambots. You need JavaScript enabled to view it. and we will assure they get paper copies of our newsletters
You can assist with Christmas Love in Action through our Prayer Vigil, Financial Giving, Recurring Purchases from our Wishlist, Christmas cards, and the Amazon Smile Program for Charities.
Prayer Vigil
Our Prayer Vigil website has been updated to include the names of all our children and staff for you to consider in your prayers.There is a place for you to insert your prayers whether they be for GoHaiti or you personally.And, there is a weekly sign up area for you to insert your name for a day of the week you will pray – you need to only pray once per week and you may pray for as long as you like. Connect directly by clickingPrayer Vigil.
Financial Giving (Amounts in USD)
Here are a few ideas what your financial gifts can accomplish:
$50 – three (3) months clothing for one child, or, one (1) month of school tuition, or, one (1) routine doctor visit (54 children)
$100 – one (1) month food for one person (54 children/18 staff)
$150 – shipping one (1) barrel of supplies from US to orphanage via Dominican Republic
$250 – one staff member salary for two (2) months (18 staff)
$400 – garden tools and seeds
$500 – fuel for generator to operate 4 hours a day for two weeks
$1,000 – one (1) month facility lease (replenish emergency fund) plus infrastructure maintenance
$3,000 – acquire and install LED lighting in dorm rooms
$3,500 – acquire and install fans in dorm rooms
This is not meant to be an all-inclusive list of total needs – just examples of some of the current ongoing costs and planned needed expenditures to bring our facility to a minimal state of operations. Additional information on expected expenditures may be found here.
You may give directly at our website at:www.go-haiti.orgor mail checks to:Generations of Hope, Haiti Inc, 210 Dogwood Lane, Meriden, CT 06450.
To help meet our financial goal, one of our gracious sponsors has offered to match financial gifts (two for one) given to GoHaiti until December 31, 2022, up to a total of $35,000.PTL!







Recurring Purchases of Basic Supplies – Specific Items From our Amazon Wishlist
There is an ongoing need to acquire from the US some products which are either higher quality, less cost, or just available than similar products in the Dominican Republic (DR) or Haiti.These include but are not limited to: personal toiletries, feminine hygiene products, bed linens, towels, batteries, smoke/co detectors, some food staples, clothing, school supplies, electronics, etc.For those of you who would like to acquire specific items, GoHaiti has established a Registry on Amazon. You may connect with this registry and purchase specific items which will be shipped free from Amazon to a central US location for transport to our site in Haiti. You may link here to be linked with the Amazon Wishlist.


Christmas Presents and Cards for Children and Staff
We want our children and staff have a wonderful Christmas this year but recognize the difficulty for our sponsors and donors to acquire and get individual presents to Haiti given the current state of civil unrest and transportation interruption.We also need to have equity among the children and staff so that everyone feels our theme of Christmas Love in Action.What we are planning to do is have our staff acquire the presents for the children and staff in the DR since they best know what everyone needs or prefers, and we will send the money to fund the effort.If you wish to help fund the Christmas presents you may give directly at our website at: www.go-haiti.org or mail checks to: Generations of Hope, Haiti Inc, 210 Dogwood Lane, Meriden, CT 06450 and include a notation that is for Christmas presents.A modest gift would cost around $30. If you would like to send a Christmas card to a child or staff member (no money inside cards please), please place the card(s) unsealed inside a mailer and send to: Phillips Metropolitan CME Church, (Attention: GoHaiti), 2500 Main Street, Hartford, CT 06120.Cards must arrive at this church by November 18, 2022 to assure arrival by Christmas.




Ideas for Fundraising
Since the inception of GoHaiti, many of you have shared with us how you have raised money for helping us financially. Here are a few of those ideas:
Describe our need at church and take up a "free will" offering on a Sunday this Fall.
Substitute a regular coffee for the Venti Peppermint Mocha 3 pump whatever latte a couple days a week and split the difference with GoHaiti – it's a win-win!
If you are retired and taking a Required Minimum Distribution from your IRA, you may be able to give directly from your financial institution to GoHaiti and avoid paying additional taxes on income and, possibly avoid being in a higher tax bracket.
Sponsor an event at church or your neighborhood like a garage sale, bake sale, 5k walk or run and provide GoHaiti info- use social media e.g. Facebook, Next Door Neighborhood
Use "Amazon Smile" and designate GoHaiti as your charity – last year from just 3 or 4 individuals almost $500 was raised
More ideas on fundraising can be found here.
I began this letter with a greeting the Apostle Paul used in many of his New Testament letters: "Grace and peace to you from God our Father and the Lord Jesus Christ".These words assure us that grace and peace are ours if we accept Jesus and what his love and sacrifice has to offer – now and for eternity.Even in these troubling times, not just for Haiti and the children, but throughout the world, I am comforted with the knowledge that God is with all of us.And, as His will is made known, we will succeed if we keep our eye on the prize – Jesus Christ! Thank you for joining Katia and I on this journey of prayer and fundraising – we are continually encouraged by your love and devotion to God and to our Haiti ministries.
In His Service and yours,
Dr. Franco Jean-Louis
E-Mail - This email address is being protected from spambots. You need JavaScript enabled to view it. or This email address is being protected from spambots. You need JavaScript enabled to view it.
Phone - (305)458-1908
---
Update on our Kenya Mission
Updated Jul. 6, 2022
Greetings from the Fraher family! We just returned to Virginia after spending three months volunteering at Mustard Seed House in Kenya. Our mission was to serve impoverished children and their families who travel long distances to receive life-saving medical care at Tenwek Hospital, and lay the groundwork to expand Mustard Seed House to serve even more children. Our time volunteering at Mustard Seed House was incredible! This year, 138 children and 199 of their family members received accommodations and distinctly Christian care at Mustard Seed House. These guests often travel many hours for medical treatment and come from all over the country, representing over 80% of Kenya's regions.

Getting to know these children and parents, hearing their stories, praying with them, encouraging them, and being able to support them in their time of need was by far our greatest blessing. The needs are overwhelming. Our current three-bedroom Mustard Seed House doesn't have enough space to keep up with demand. We spent much of our time laying the groundwork for a larger facility to serve more children. Imagine 12 families sharing three bedrooms, with still others sleeping on the couches and on mattresses spread in the hallway and kitchen. Imagine this completely full house and still more families arriving. We need room for more! To make room for more, we launched a capital campaign and raised nearly $100k toward our $250k goal. Then, last month we received an anonymous matching gift challenge for $32,500. Praise God!

We wanted to take a moment to thank you for your prayers. Over the course of three months, there were a couple of difficult moments. Having a community praying for us gave us the strength and encouragement to continue this important work despite the challenges. We also wanted to thank you for your financial support. We are incredibly grateful to the OSWLC Mission Team for their support of both Mustard Seed House and our missionary service through World Gospel Mission. We wish we could take you all with us to Kenya to see the incredible life-saving impact OSWLC is having! We thank you for your partnership and for helping us welcome the sick and suffering in Jesus' name.

If you are interested in hearing more about our trip, learning more, joining a mission trip, or volunteering, please reach out to This email address is being protected from spambots. You need JavaScript enabled to view it. or visit this site.

Only Together,
Jacob, Lauren, Miriam, Micah, Layla, and Lorelei
---
 Mission Trips
"Go into all the world and reach the Gospel to all creation." Mark 16:15
Guatemala 2020
Guatemala 2020
Several members of OSWLC, Cathy O'Meara, Bill Pfancuff, and Jean Hergenroeder (who is now in Texas), met with our missionaries, Derek and Mimi Ellis, to witness and bring supplies to families in the mountain villages around Zacapa and Antigua, Guatemala. Their activities included both home visits and participating in worship services. While the visits were focused primarily on outreach to women and families, there were also opportunities to share the gospel with men in the various communities.
Of significance was a group of teenage girls who are very focused on their future thanks to Mimi and Derek. These young women study hard, participate in sports, and are fully engaged in church. It is so important to get the girls to focus on staying in school and participating in activities to further their education and social circle in Guatemala. Without this guidance, many girls drop out of school and end up young mothers, some sadly in abusive situations. This group of young ladies are able to do this primarily through a program our missionaries started several years ago called KIS (Keep in School). Because of the high poverty rate, children are expected to help earn income for the family from an early age by harvesting crops. During the harvest seasons children are sent to the fields to work for about $30.00 per month and are not able to go to school. The KIS program locates sponsors to replace the child's wages and parents sign a contract to ensure the children stay in school.
Thanks to Thrivent Financial we were able to bring two sewing machines, as well as sewing and other supplies. We also provided assistance to Mimi and Derek in administration and marketing of their mission outreaches. They rely almost entirely on churches in the United States like Our Savior's Way for their financial support. Derek is able to find part-time employment while they are back home, however that will not happen for sometime due to the COVID-19 outbreak. You may write Mimi and Derek at: This email address is being protected from spambots. You need JavaScript enabled to view it. or find out more about their work on their website at Straightpathministries.org.
If you are interested in future mission trips to Guatemala or would like to know more about how to support them, please contact This email address is being protected from spambots. You need JavaScript enabled to view it. who is the OSWLC Mission Team contact point for Guatemala. Please keep the Ellis family and all our missionaries, both local and abroad, in your prayers.
Some of the other Worldwide Support
Lutheran World Relief - "Affirming God's love for all people, we work with Lutherans and partners around the world to end poverty, injustice and human suffering."
Orphan Grain Train - "In loving response to Christ, the Servant, the Orphan Grain Train movement encourages and enables God's people to share personal and material resources in bringing Christ's name and character to needy people both far and near."
Lutheran Partners in Disaster Response - "LPDR is an integral part of the Long Term Recovery effort in Somerset County Maryland."
If you would like to financially support any of our missions click here.