The Call Process
The call process is a deliberative journey following LCMS rules and guidelines set out in the OSWLC Constitution. Conducted prayerfully we trust in the Lord's guidance and follow a process of due diligence. Every call has its own dynamics but generally follows three stages. The expected times shown below are best faith estimates only, based on prior experience, and may change.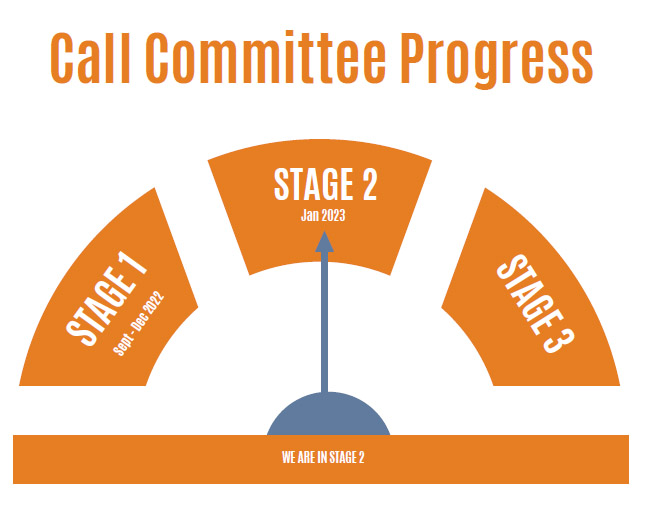 Stage 1 – Completed December 2022
The Southeastern district president has compiled a list of pastoral candidates for us to consider. As part of this process, he considered 22 pastors suggested by members of our church.
Stage 2 – Expect to take 2 to 4 months
The OSWLC Call Committee is reviewing the list, preparing for, and conducting interviews. Final candidates will be invited to meet church members in a series of town halls. This is a process of prayer and discernment as God reveals who He has for our congregation.
Stage 3 – Expect to take 1 to 3 months
The OSWLC Call Committee will propose to the MMSLG candidate/s to call as Senior Pastor. The MMSLG will call a meeting for church members to vote. If the church votes to do so, a call is extended to the chosen candidate.
Prayer for the Call Committee
Writing to the church in Corinth, the Apostle Paul encouraged believers there to consider their own call. As we are in the call process, we may consider the call we all have from God by exploring a few of the following scriptures:
Acts 2:39,
Ephesians 4:4-6,
Colossians 3:15,
1 Timothy 6:12,
1 Peter 39, and
1 John 3:1
Please Pray
What a calling – to hope, peace, eternal life! Gracious calling God, call on us with your grace again and again. Renew us daily in the peace, hope, and eternal life we have been promised and which we have been called to proclaim. As we work to call a senior pastor, may we count on the prayers of all members of this community of faith to uphold us, just as we trust your Spirit to guide us. We remember, God, you are the One who called us first. Amen
Call Committee Members
Chairman: Jonathan Halls
Vice-Chair: Jim Collier
Members: Beth Anton, Stu Dunnett, Belinda Haagsma, Gwen Kennedy, Heather Novak, Kim Perdos, Syam Pilli, Laura Taylor